This map indicates the National Forests where we are currently having trees planted in. The forests are
subject to change without notice, as reforestation programs may be opened or closed at any time.
** You can select a National Forest or Tree Recovery Program for your gift on the order form **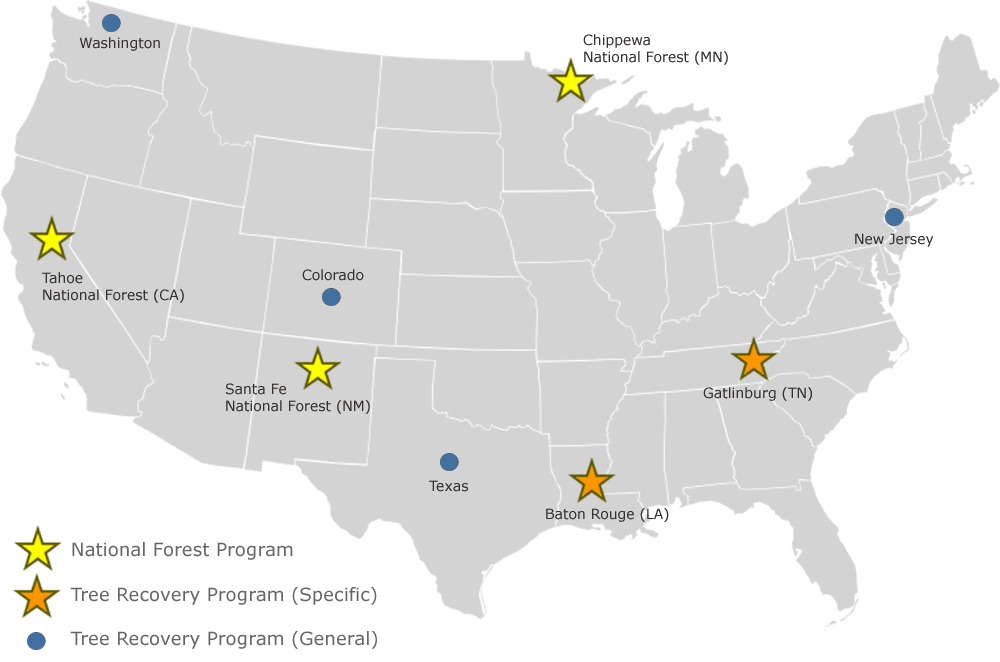 Santa Fe National Forest (NM)

Santa Fe National Forest is located in northern New Mexico and comprises over 1.6 million acres.  It has an elevation change of 8000 ft, so it supports a multitude of wildlife habitats and woodland species.  In 2011,  the Las Conchas Fire burned over 150,000 acres and became New Mexico's second largest wildfire on record.   The trees which anchored the wathershed environments were lost and there was tremendous damage to the  local ecosystems.  Through this planting program approximately 300 acres adjacent to the Dome Wilderness area will be replanted in what has been a multi-year effort.  Your gift will help continue this initiative and bring new growth and stability back to a once vibrant woodland area.
Chippewa National Forest (MN)

Established in 1908 as the first national forest east of the Mississippi River, Chippewa National Forest is located in the heart of northern Minnesota.   Its large expanses of red and white pines make Chippewa National Forest one of the largest nesting areas for the American Bald Eagle.
In July 2012, a devastating storm with sustained 80 mph winds  shredded the forest, taking down an estimated 95,000 of the 666,542-acre forest.  Groves of mature conifer trees lie broken and uprooted.  12,000 prime old forest pine acreage lay in the dirt.  Habitats for forest creatures were destroyed and the nesting grounds of the American Bald Eagle were severely jeopardized.
The current planting plan calls for hundreds of thousands of trees, including red pine, white pine, white spruce and Jack pine to be replanted to stabilize the forest floor and restore the woodlands to its historic grandeur.
Tahoe National Forest (CA)

The Tahoe National Forest is located northeast of Sacramento in the central Sierra Nevada mountains and extends from Lake Tahoe to north of the prominent Sierra Buttes. Each year nearly six million visitor days are spent enjoying the scenic variety and clean air of the high Sierra. These public lands are dedicated to the wise use and production of timber, water, grazing areas, wildlife and recreational opportunities. The Forest name, taken from the famed Lake Tahoe, is probably from a Washoe Indian word meaning "Big Water." Elevations within the Forest vary from about 1,500 feet in the foothills to over 9,000 feet at the Sierra crest.
In 2013, the American Fire raged through the forest, burning 22,500 acres of trees. The current planting plan calls for the planting of at least 7,300 acres of the forest in order to restore wilderness habitats for the creatures who call this forest home.
What are Specific Tree Recovery Programs?
Specific Tree Recovery Programs are replanting efforts which take place within communities and their surrounding regions hit hard by natural catastrophes, as opposed to within National Forests.  Coordinated with state forest agencies, civic groups and individual citizens, tens of thousands of trees are being replaced in areas where massive fires or huge storms have wiped out forest coverage or urban tree canopies.  Trees may be planted on private lands, as well as public, in an effort to replace the trees that existed before the devastation occurred.  These are the actual planting areas of these programs.

GATLINBURG, TN – 2016 – On November 23, a fire was discovered outside Gatlinburg, Tennessee, near the top of a steep hill known as Chimney Tops. The blaze spread quickly because of the dry weather conditions this year. More than 17,000 acres have been damaged and more than 2,400 structures have been damaged or destroyed. 14,000 residents have been forced to evacuate their homes. The county estimates that more than $500 million in damages were caused by the fire.
BATON ROUGE, LA – 2016 – In mid-August, over the course of 5 days, 20″ of rain fell on the city of Baton Rouge and surrounding parishes. 60,000 homes were flooded, 113 lives were lost and the communities of the region were inundated and nearly wiped out. But these areas will be re-built, and trees planted through this program will be distributed to residents, so that they can regain the what was lost and create beauty in the landscape once again.
What are General Tree Recovery Programs?
General Tree Recovery Programs shown on the map above are replanting efforts which are identical to Specific Tree Recovery Programs, with one exception.  Orders placed for these locations are pooled into a "general tree fund", and trees are planted where they are needed most, which may or may not actually be in the preferred planting location selected on the order form.  The Trees Remember does not control where trees funded by this general fund are planted.

Previous Planting Locations
The Trees Remember has helped people plant over 100,000 trees in such locations as:
Shasta-Trinity National Forest
Plumas National Forest
Gallatin National Forest
Superior National Forest
Blackwater River State Forest
Seminole National Forest