The Trees Remember enables people to plant trees within selected national forests, or to participate in more generalized  programs, where the state is known but the forest, park, or other wooded location within that state cannot be specified.  See the map below for the programs that are currently available.
You will be able select your preferred national forest or state when completing the order form for your order.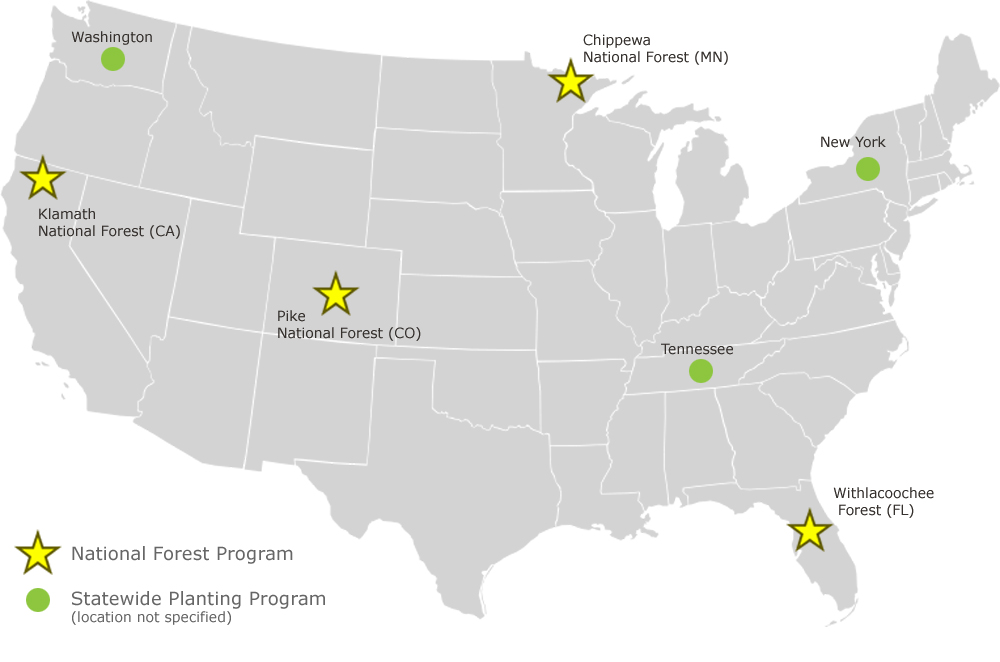 Planting Locations
Klamath National Forest:
Planting in Salmon River and Scott River Ranger Districts across five watersheds
Pike National Forest:
Planting in Pikes Peak and South Platte Ranger Districts impacting the West Creek Watershed
Chippewa National Forest:
Planting in Blackduck, Deer River, and Walker Ranger Districts across 36 watersheds
Withlacoochee State Forest:
Planting in Lake County, FL within the SE corner of the Richloam Tract and impacting the Withlacoochee River Watershed
Klamath National Forest (CA)

Multiple fires (Salmon/Butler, Happy Camp Complex, Beaver, Whites, Little Deer. Gap, Eclipse, Salmon/August) occurring 2013, 2014, 2016, and 2017 have deforested substantial acreage across the Forest. Significant deforested acreage is in Northern Spotted Owl Reserve land or U.S. Fish and Wildlife Service designated Northern spotted owl critical habitat. The Klamath, Scott, and Salmon Rivers are habitat for threatened and endangered Coho Salmon. Reforestation needs have become a necessity because of the sequential fires crossing large landscape areas of the Forest. For acres selected for reforestation in 2018, it is a common result of these fires that seed sources are minimal to non-existent due to the large acreage consumed.
Pike National Forest (CO)

Pike National Forest, which includes the popular Pike's Peak tourist destination, has been the location of numerous fires in the last 20 years, including the Buffalo Creek Fire (11,852 acres), High Meadows Fire (5,817 acres), Hayman Fire (136,618 acres), and Schoonover Fire (3471 acres. These wildfires have created a large need for reforestation to quickly re-establish tree cover and canopies, to improve wildlife habitats, watershed health and stability and visual quality. Planted species are to be mainly Ponderosa pine and Douglas fir.
Chippewa National Forest (MN)

Established in 1908 as the first national forest east of the Mississippi River, Chippewa National Forest is located in the heart of northern Minnesota.   Its large expanses of red and white pines make Chippewa National Forest one of the largest nesting areas for the American Bald Eagle.
In July 2012, a devastating storm with sustained 80 mph winds  shredded the forest, taking down an estimated 95,000 of the 666,542-acre forest.  Groves of mature conifer trees lie broken and uprooted.  12,000 prime old forest pine acreage lay in the dirt.  Habitats for forest creatures were destroyed and the nesting grounds of the American Bald Eagle were severely jeopardized.
The current planting plan calls for hundreds of thousands of trees, including red pine, white pine, white spruce and Jack pine to be replanted to stabilize the forest floor and restore the woodlands to its historic grandeur.
Withlacoochee State Forest (FL)

The Withlacoochee River watershed covers approximately 2,100 square miles in parts of Citrus, Hernando, Lake, Levy, Marion, Pasco, Polk and Sumter counties. The Withlacoochee River is approximately 160 miles long and originates in the Green Swamp extending northward through eight counties before eventually discharging into the Gulf of Mexico near Yankeetown, Florida. The river is designated an Outstanding Florida Water by the Florida Department of Environmental Protection. Reforestation in this state forest will help clean the watershed and provide numerous ancillary benefits.
Previous Planting Locations
Shasta-Trinity National Forest
Plumas National Forest
Gallatin National Forest
Superior National Forest
Blackwater River State Forest
Seminole National Forest